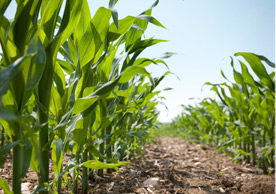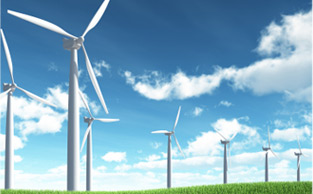 Innovation
in Global
Redevelopment
Green Investment Group Affiliate Acquires 3,200-Acre Paper Mill in Missoula, Montana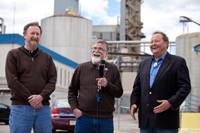 Ray Stillwell with Montana Governor Brian Schweitzer
Missoula, Montana, May 4, 2011
Montana Governor Brian Schweitzer, along with M2 Green Redevelopment, LLC., an affiliate of Green Investment Group, Inc. (GIGI), today announced the purchase of a former Smurfit-Stone paper mill in Missoula, Montana. The $20 million transaction closed on May 3, 2011. This is the seventh Smurfit-Stone paper mill acquired since 2006 by GIGI (http://www.greeninvgroup.com), an Alton, Illinois-based company that acquires and redevelops Brownfield sites throughout North America.
Plans for the future use of the Missoula site are currently being formulated and will continue during the course of the coming months. As plans are finalized, work will focus on clean-up and reconfiguration of the site to analyze the potential use of the existing facilities and land. GIGI anticipates a $5 million investment in phase one and an overall investment of $40 million.
Gov. Brian Schweitzer (http://www.governor.mt.gov) commented, "Green Investment Group has a proven track record of investing the necessary funds to save the industrial infrastructure and create good-paying jobs. We welcome them to Montana."
"Green Investment Group has a strong record of redevelopment and job creation," said U.S. Senator Jon Tester, who has committed to work with company officials to secure Montana jobs. "I welcome Green Investment Group to Montana, and I welcome the jobs they'll bring to Missoula and Frenchtown. The old Smurfit Stone site remains a valuable part of our infrastructure.  And I look forward to this renewed facility getting people back to work and contributing to our renewable energy needs, for years to come."
GREEN INVESTMENT GROUP FIRST AND FINAL ADD
The 3,200-acre Missoula facility is located on the Clark Fork River in Missoula Valley, MT, approximately one and one-half hours west of the state capital, Helena. The mill closed on January 8, 2010 after operating for 53 years as an integrated pulp and paper mill, producing more than 850,000 dry tons of wood pulp per year. In addition to pulp and paper facilities, the site contains a large wood yard that can chip and process one million green tons of wood per year. Prior to closing, the mill employed approximately 400 people on-site and utilized relationships with local suppliers.
Ray Stillwell, principal of Green Investment Group, Inc., states, "The Missoula property offers many opportunities for continued progress in the region. As with all of our projects, our main goal is to work with the community and local officials to develop a site that complements the other industries in the area and meets the economic needs and interests of its people by creating jobs in sustainable growth industries."
Green Investment Group acquires and redevelops Brownfield sites throughout North America. A Brownfield site is an abandoned or underutilized industrial or commercial site that is well-positioned for redevelopment. Using a unique, modern business model that focuses on a phased approach to restoring, redeveloping and reviving inactive industrial sites, GIGI is able to bring investment, jobs and revitalization to local economies.
In addition to the Missoula, MT site, GIGI also owns properties in Alton, Ill., Circleville, Ohio and Carthage, Ind., in the United States and Portage-du-Fort, Quebec; New Richmond, Quebec; and Bathurst, New Brunswick in Canada.
For more information about Green Investment Group, visit http://www.greeninvgroup.com.
Source:
Cindy Sorgea/Laura Reed
Cork Tree Creative
618.656.7333